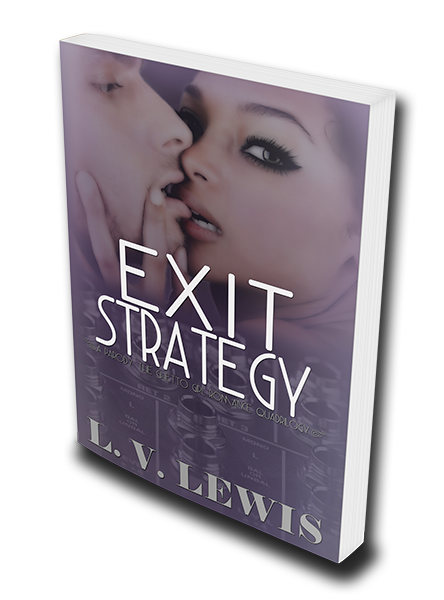 On of my favorite authors to work with, L.V. Lewis, revisits the world of Keisha Beale and Tristan White from her Fifty Shades of Jungle Fever in the soon to be released Exit Strategy!
Ex·it Strat·e·gy (noun) 1. A preplanned means of extricating oneself from a situation that is likely to become difficult or unpleasant. 2. The method by which a venture capitalist or business owner intends to get out of an investment that he or she has made in the past.
Will Keisha and Tristan exercise their elaborate EXIT STRATEGY and end their unorthodox arrangement?
Assailed by demons she thought she had conquered, Keisha Beale has uttered the words to end her tumultuous relationship with Tristan White. Separated, they grapple for a time with their personal demons. However, when their lives apart become unbearable, a credible threat brings them back together prematurely.
As they seek to discover who is responsible for the threats, several seemingly unrelated incidents throw them into a tailspin. Will Keisha's youthful indiscretions or Tristan's un-reconciled feelings for a former sub derail their tenuous arrangement?
In the meantime, trouble in Nathan and Jada's paradise send dramatic ripples that hint of future difficulties in the idyllic pairing.
Nothing Ventured…
Tristan uses his vast wealth and connections to correct a gross miscarriage of justice, while Keisha makes herself utterly vulnerable to Tristan and fears he has chosen to exercise his own exit strategy.
…Nothing Gained!
Will this be the end of the indecent arrangement that became a fairy tale? Or will Keisha and Tristan reveal the trauma from their pasts so they may heal and completely embrace their relationship?
Sensual, suspenseful, and still infused with the riotous levity of Triple-G and Fairy Hoochie Mama, the Ghetto Girl Romance Quadrilogy departs from full parody with a distinctive take on love, loyalty, sacrifice, redemption, and acceptance.
L. V. Lewis doesn't have the financial means of Tristan White, but she wouldn't want readers to go away from this cover reveal empty handed, so she's giving all viewers the chance to win one of the following three prizes (1) Kindle (2) $50 gift card (from either Amazon, B&N, or iTunes), 3) Signed Personalized copies of Fifty Shades of Jungle Fever and Exit Strategy. Here's the Rafflecopter link if you'd like to enter to win: http://bit.ly/YZyTXA.