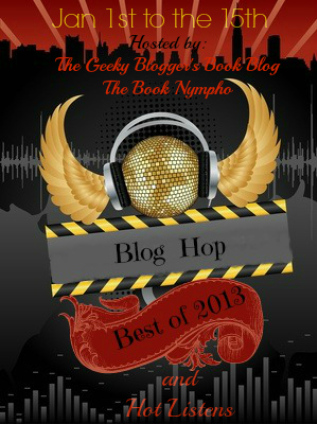 It is time for the Best of 2013 Audiobook Blog Hop where we highlight our favorite 3 audiobooks from 2013. This hop is hosted by The Book Nympho, Hot Listens, and Geeky Bloggers Book Blog and runs from Jan 1 2014 to Jan 15 2014.
I really like to read. No. Really. Reading is kind of an obsession for me. To illustrate the point, when I was a little kid I used to read while using the bathroom. Yes, books, but also air freshener, soap boxes, the engravings on faucets. If it was within my sight line, I was reading it (#nerdpride). So I guess it's not too surprising--although it's still a bit surreal--that as an adult I would somehow manage to actually make a living reading. As a voice actor that is exactly what I do. In 2013 I was lucky enough to read some radio ads, several phone messages, 9 slide shows, 2 safety videos, and 25 audiobooks. Even though they are the most involved, audiobooks (the steamy ones in particular) are my favorites to do. After much deliberation I picked the very last and very first audiobooks I narrated in 2013, and one hot listen from fellow narrator Christa G. Lewis to share with you.
1. Exit Strategy by L.V. Lewis, narrated by Marie Hélène
Why I loved it: Much like in season 2 for Olivia Pope, book 2 in the 50 Shades of Jungle Fever let us see more of the heroine's vulnerability. Don't let the title deter you—it's much more than an homage to E.L. James' work and really worth a listen/read for fans and non-fans alike.
2. Kismet's Kiss by Cate Rowan, narrated by Marie Hélène
Why I loved it: The King and I meets Marion Zimmer Bradley. What's not to like? I thoroughly enjoyed the fantasy elements of the story, but what I loved most was how real and complicated Sultan Kuramos' life was amidst the chaos of politics, plural marriage, and a plague.
3. Her Fake Romance by Donna Fasano, narrated by Christa G. Lewis
Why I loved it: The story is really sweet and well-done, and Christa's voice is smooth and gorgeous. 'Nough said.
So now comes the fun part. Click below to check out what other listeners have enjoyed this year and keep scrolling to enter for a chance to win a 6 month membership to Audible below.
Happy Listening!
Enter audible.com Giveaway